LED Panel flight cases come in a wide variety of layouts, many of which are very popular with rental companies around the world.  There are many different styles and most of these designs are saved in our database for quick retrieval.
We can also custom-build to meet individual requirements, to compliment other flightcases in your inventory or transportation demands. Many varying flight case styles are also used, including standard Trunks, Top-Hat Trunks, Split-Lid Trunks and even Rack styles.
Branding is a key feature of all 5 Star products, not just cases but padded bags and covers. Screen-printed logos and product identification can be applied to the flightcase in a variety of colours. Just send us your high-res artwork and we'll do the rest.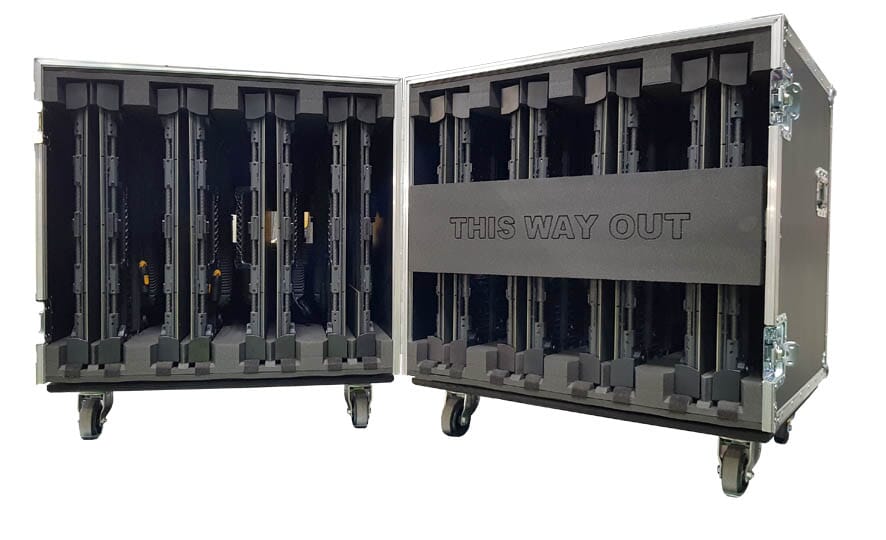 Equipment protection is paramount! Rental companies invest serious amounts of money in not just LED panels and protecting this investment is where a quality, well-designed flight case comes in. Protecting this equipment is usually by means of polyethylene foam, both cavity linings and specific blocks for additional support. Varying grades of foam are used throughout, depending on their protective function. Suede lining can also be added to foam panels where they are in contact with, or in close proximity to the actual LED matrix.
Our company produce LED panel cases for many of the UK's leading rental companies, who put their trust in us to manufacture quality products and provide high-class service. Some of these companies are shown below and if we've missed any, please contact us and we'll add a link to your website.
Our LED Panel Flight Case Customers
Contact Us!
In the external colour range section you'll find the various colour options and panel finishes. That can be applied, to compliment your corporate identity. And don't forget, most flight cases can include branding by means of screen-printed and CNC-engraved logos, adding not only visual impact but also additional security.
Contact our sales team on +44 (0)1945 427000 to obtain a design and quote or visit our Get in Touch page for an LED panel flight case.
In the gallery you can see different projects we've produced that can serve as a reference. Social media is also a great place to catch up with news and recent projects. Check our company on Facebook, LinkedIn, Twitter an Instagram