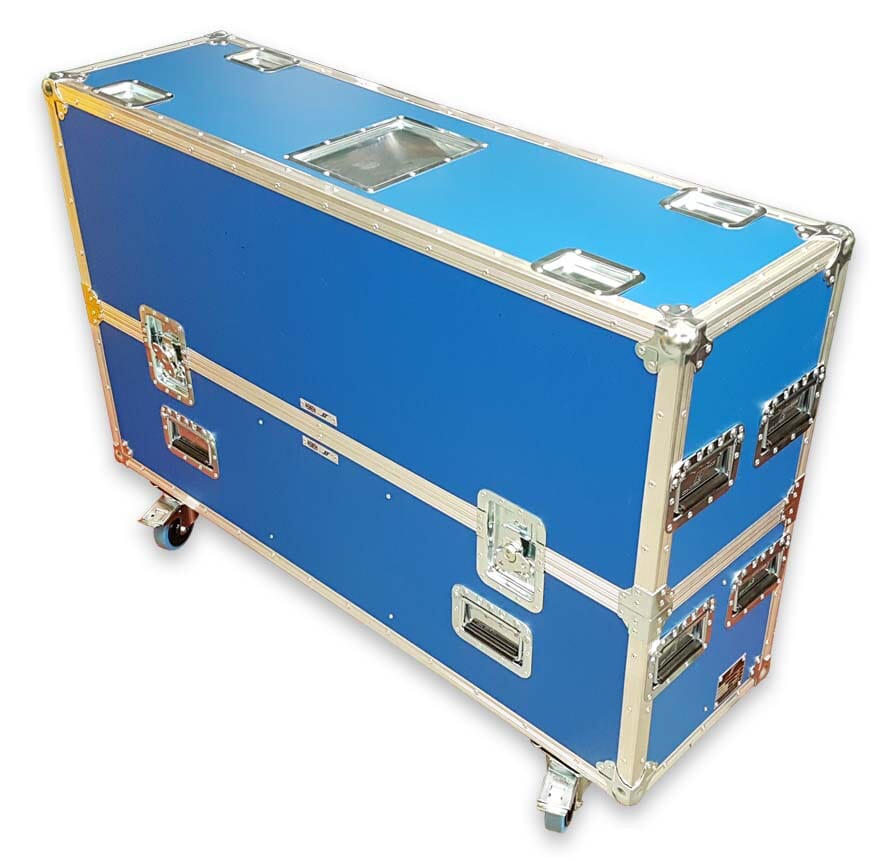 A lightweight alternative to the plywood carcass construction of traditional flight cases.  Offering up to 25% saving in weight, due to the honeycomb polypropylene panels used throughout the build.
Visibly, Astroboard flight cases are not really any different to their traditional cousins, but due to the lightweight panels used, there is a significant weight saving when compared to cases. Obviously, as the weight reduction is an advantage, this case specification deserves a little more respect, so is ideally suited to end-users and applications where heavy touring is not an issue!  That said, if treated well, Astroboard flight cases will give many years service.
Astroboard cases have a shell constructed from honeycomb polypropylene.  This panel is of 7mm thickness and is available in four colours…Red, Blue, Black and Grey. Whilst normally, Astroboard flight cases would be selected for small to medium-sized projects, various larger cases can be produced in this specification, such as LED screen flight cases. Due to the lightweight characteristics of modern LED screens, using an equally lightweight flight case construction is proving popular.
We have found that twin LED screen cases, up to 55″ are just about the largest size recommended for Astroboard flight cases.  Pictured on the left is a twin Samsung 55″ case from the Astroboard range. Contact our sales team to discuss your requirements.
Due to the lightweight nature of selecting Astroboard for a case project, there are many different construction options which our team will select when designing your flight case. Certain criteria such as the size and weight of the equipment being housed, determines the construction and hardware selection of each Astroboard case project. However, shown below are a few key features for this specification.
Features
Constructed from 7mm honeycomb polypropylene panels

30mm aluminium extrusions to leading edges
Unique design dust proof interlocking between lid and base using hybrid aluminium location
Choice of four colours – Red, Blue, Grey and Black 
Zinc-plated hardware
Recessed handles, butterfly catches and stays

Custom interiors and in-house converted foam infill blocks
Options
Trolley wheels and telescopic handle
Screen-printed branding
PAL label dishes 
Anodised aluminium profiles and powder-coated hardware
Custom Astroboard Flight Cases
Contact Us!
In the external colour range section you'll find the various colour options and panel finishes. That can be applied, to compliment your corporate identity. And don't forget, most flight cases can include branding by means of screen-printed and CNC-engraved logos, adding not only visual impact but also additional security.
Contact our sales team on +44 (0)1945 427000 to obtain a design and quote or visit our Get in Touch page for a Astroboard flight case.
In the gallery you can see different projects we've produced that can serve as a reference. Social media is also a great place to catch up with news and recent projects. Check our company on Facebook, LinkedIn, Twitter an Instagram